The wife and 3 children of Firefighter Tanskely received their quilts in March of 2015, in a private presentation. We thank you for your help and donations.
Daryl Pierson Memorial Quilt
 Pieced Together Studio was asked create a memorial quilt for the family of Law Enforcement Officer Daryl Pierson, who was shot and killed in the line of duty.
Daryl  was shot Wednesday, September 3rd, 2014, while pursuing a suspect. He leaves behind a wife, a 4 yr old son and a 3 month old daughter. He had just returned to work the day before, after being off several months with a hand injury.
The Pierson quilt was presented to his wife on November 16th, 2014. 
We thank you for your help and donations.
Joe Matuskovic Memorial Quilt
Sheriff Deputy Joe Matuskovic, 17 year veteran of law enforcement was shot and killed Monday, September 8, 2014 as he and several other officers responded to a disturbance call at an apartment complex. He leaves behind  3 small children; 2 girls and a boy.
The family of Deputy Matuskovic received their quilts on January 19th, 2015 in a private presentation.
We thank you for your help and your donations.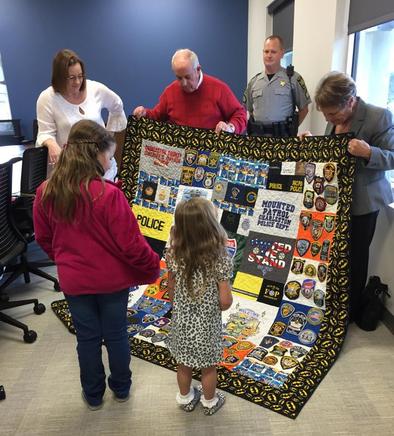 WE ARE PROUD TO BACK THE BLUE